Hotel Helgeand Wisby
Address

: N:a Kyrkogatan 3, 62155 Visby
show map
Location
: Visby inside the city walls
(Coastal)
Hotel | LAST MINUTE ROOMS! Exclusive and unique small hotel, located in a calm oasis in the UNESCO world heritage city of Visby, 275 meters from the sea, built in a 14th century house. Beautiful romantic rooms furnished in historical style, wooden floors and limestone walls. High comfort beds with down duvets in 100 percent cottage. Great breakfast buffet with warm and cold dishes, mainly organic, is included in your room rate. The hotel is located only 0-5 min walk to Visby´s very best restaurants. Warmly welcome to us! Discount on Sundays.
IMPORTANT NOTE!
1) Always pre-announce your arrival time in the message field to the hotel, and a cell phone number where we can reach you during your visit. For late arrivals, you need a security code to enter the hotel.

2) For extra beds for children you must contact the hotel directly after making your reservation, otherwise we cannot guarantee you a room fitting an extra bed.

LOCATION & ATMOSPHERE
The hotel is located in a small park not far from the Baltic Sea and next to the Cathedral of Saint Mary. You will get a glimpse of the sea from the Knights Chambers, from other rooms the view may offer the 13th century Church ruin of The Holy Spirit in north and the Cathedral of Saint Mary in south east. The building is all authentic and interior decorations are made in a personal and unique mode. All 17 rooms are painted in original 18th century Gotlandic country style in an earth range of sunshine bricks, warm yellow ochre and grey blue on thick stonewalls with deep window recesses. In some rooms the original limestone is visible. The furniture is especially designed for The Medieval Hotel, made in solid dark spruce. Bathrooms are modern and decorated in granite tiles and mosaic with shower as standard, however our 5 "theme rooms" have bath tubs. To maintain our soft line in the hotel rooms we have hidden disturbing elements as flat screen tv and broadband outlet in wall cabinets. The experience is completed – this is not a regular hotel, it´s rather a genuine Gotlandic Farmhouse from another century!

SLEEP, EAT BREAKFAST & ENJOY
Our luxurious beds from Swedish Carpe Diem has handcrafted gables in wood or iron, set with 100 percent cotton linen. In the morning you will be served breakfast (included in room rate) with warm and cold dishes, mainly organic, from the buffet in our Gothic Breakfast Room. In our little bar corner with medieval designed fireplace, you may enjoy small dishes, beverages, books and calm between noon and afternoon/early evening. For dinner we recommend 0,5-4 minutes walk to a various selection of great restaurants in Visby.

THE NICEST ROOM
All our rooms offer a very high level of comfort, however they may vary in size and also that some have built-in or free standing bath tubs (all rooms have bathrooms with shower and wc as standard). You may read more about categories in each price field. So, when "I want your nicest room" is popped, we can´t really choose for you as all rooms are so special…!
Smoking not allowed
Disabled-friendly
Facilities and services
Capacity

Number of floors: 2

Number of bars 1

Conference rooms: 3

Built in year

Last renovated year

Facilities

24 hours check-in

Conference Room

Room service

Wireless Internet

Safe Deposit

Coastal (0-800 m from the water)

Parking

Special requirements

Smoking not allowed

Disabled-friendly
Good to know
Check in (earliest)

Check out (latest)
Compare "Hotel Helgeand Wisby" with similar alternatives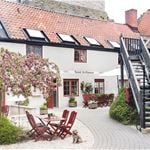 A family-run hotel in the heart of inner-city Visby. Five historical buildings, 30 pleasant rooms, two charming gardens and the ruins of a medieval church. Personal service and wireless Internet are always included in the price. We welcome you to the Hotel St Clemens!
Welcome to an oasis in the center of Visby´s inner city, just above Almedalen and Visby's Seashore. You'll find us in a golden yellow medieval house with an alley inside that was recreated during the renovation in 1998. You find most of what you need in the near area. We are centrally located to almost everything. The ferry terminal is within walking distance and it is only 4 km to the airport. With only 200 m to the bus station you can easily get around the island. There is a wealth of excellent restaurants in the neighborhood, which are of a high standard. The icing on the cake are the sea walks, which are balm for the soul. There are several beaches to choose from along the seafront promenade. If you love a dip in the morning, pack the bathrobe and start your day with a swim!
Kalk Hotel (former Hotell Strandporten), a hotel with beautiful surroundings in the middle of the World Heritage Town Visby on Gotland. The view over the park area Almedalen is wonderful and you can also see the sea from some of the rooms.