Åminne Fritid & Havsbad /Camping
Location
: Eastern and mid Gotland
(Coastal)
Camping | Åminne is the gotlandish name for a river estuary.Where The Gothem River winds it's way out to the sea south of Slite on the north east of the island, there is a natural oasis. Meadows surrounded by woods, stretch out towards generous sandy beaches.
10 km south of Slite in north-east Gotland, you will find a natural oasis - Åminne. Surrounded by an old, large forest, and with the Gothemsån stream meandering through the area, lies a beachy field leading up to generous, long sandy beaches.

Åminne has been the locals' favourite beach and summer spot. It is a beach for play and recreation, for long walks and relaxation. We would like our holiday facilities to stay in your memory forever. It will be an experience to remember and to come back to.

The camping sight has three areas for tents. Service buildings with showers (coins needed), toilets as well as washing facilities are situated within the area.

There's a fully-licensed restaurant, a well-stocked store, cottage village, overnight cottages, caravan camping and a site for tents, 10 m * 5 m swimming pool, boule-course, mini-golf, cycle hire, and Slite GK golf course is about 10 km from the area.

Check in from 3 p.m. - Check out at the latest 12.00 a.m.

Reception open during high season: 9 a.m. to 9 p.m.

Pets are allowed.
Restaurant
Disabled-friendly
Pets allowed
Facilities and services
Facilities

Shared kitchen

Laundry facilities

Internet

Coastal (0-800 m from the water)

Eat & Drink on site

Leisure facilities

Bicycle rental

Outdoor pool

Playground

Sauna

Special requirements

Pets allowed

Disabled-friendly
Compare "Åminne Fritid & Havsbad /Camping" with similar alternatives
Hotell Dalhem is a rural and private accomondation with restaurant and conference facilities, about 15 minutes south of Visby. The hotel's position in the center of Gotland makes it a perfect starting point for excursions throughout the island.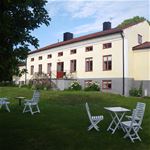 We warmly welcome you to Mallas Stenstugu, a B&B with 9 rooms just 12 km from the main town Visby. Your room is ready and waiting, the beds made up with organic cotton bed linen, and the organic breakfast buffet is at your disposal each morning, served in the large green house in the garden.
Grannen is located in a lovely wooded area north of Lärbro. We boast 34 rooms, double rooms (without bunk-beds) and a family rooms, divided into four separate houses. We have a resturant and gym you can also make use of while you stay. We are members of Hostel International, so the price you see here is membership price only. If your not a member, you pay a small additional price at check-in (or you can also aquire membership if you chose). Additional cost is 50:- (skr)/ adult and 25:-(skr)/children per night.